All Natural Hair Removal Want a safer more gentle way to remove unwanted hair? Sugaring is your alternative hair removal solution! Works great for all skin types and is especially good for sensitive skin. It works especially well removing the fine villus (peach fuzz) hair on women's faces. Made from pure all natural ingredients, sugar is applied warm, not hot. Residue easily cleans up with warm water with no burning or tearing of the skin. – 100 NATURAL – ORGANIC – MINIMIZES EXCESS FACIAL AND BODY HAIR – BETTER THAN WAXING – LESS PAIN & IRRITATION – NO TEARING & NOT HOT – REDUCE INGROWN HAIR BUMPS – SAFE, GENTLE & EFFECTIVE – SANITARY; NO CROSS CONTAMINATION – GOOD FOR ALL SKIN COLORS & HAIR TYPES – GOES WHERE LASERS & WAXING CANNOT – SLOWS REGROWTH – HAIR BECOMES THINNER Preparing for Your Treatment For best results, please allow hair to grow (2 weeks) 10 days+ or between 1/8" and 1/4" in length prior to appointment Come to your appointment with clean, dry skin. Do not wear any lotion or oils on areas to be treated and no anti-perspirant (for underarms) within 24 hours of treatment. Avoid tanning or sun exposure 24 hours before and after treatment. Do not apply deodorant, makeup, or body lotions for 12 hours following treatment. Let us know when you book your appointment if you are using any medications from a dermatologist. We cannot treat skin that is sunburned. Tiny red dots may appear following sugaring. This is a natural reaction and will disappear quickly. *It is recommended that your first 3 appointments are scheduled closely together (every 2-4 weeks) for maximum thinning results. >>Book Online Tips<< For immediate book and fittings, Call/txt me: 021 084 22 700 Or use the button booking online to choose a day and time suitable for you. --Attention-- Online booking only allows the schedule for next one hour. If you are unable to schedule a specific time available on the sistem it is because the service time exceeds the time available between you and the next client, just txt me I always can arrange for you!
Marcela
Beauty Therapist - Sugarist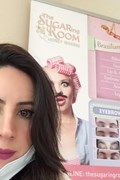 Advanced Body Sugaring Technician I have more than 15 years experience of Sugaring technique and beauty therapy.
Ane Gracioli
9 Devonport Road - Suite 11 - Upstairs, CBD, Tauranga
02108422700
Monday

Tuesday

Wednesday

Thursday

Friday

9:00am - 5:00pm

9:00am - 5:00pm

9:00am - 5:00pm

9:00am - 5:00pm

9:00am - 5:00pm